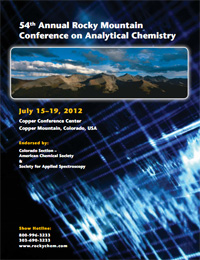 Through the various symposia being offered, the Rocky Mountain Conference on Analytical Chemistry will attract the buyers, decision makers and support staff throughout the industry. It's a unique opportunity for businesses to "spread the word" on their products or services via an exhibit booth. Act now!
location
Copper Conference Center, Copper Mountain, CO
booth cost
$1,100 per 8′ x 10′ space
booth cost includes
Company name sign
Draped space (8′ high back drape, 3′ high side drape) 
Two symposia registrations at $100/registration
Free listing in Show Program
Exhibitor badges for booth personnel
General security —Electrical, internet, tables and chairs are NOT included in booth cost. —The exhibition area is carpeted booth payment
50% non-refundable deposit due upon booking
Full balance due on or before May 15, 2012 • Cancellations after May 15, 2012 are nonrefundable
hours
Move-In
Sunday, July 15 11:00 a.m. – 5:00 p.m.
Exhibit Hours
Monday, July 16 10:00 a.m. – 7:00 p.m. Tuesday, July 17 9:00 a.m. – 5:00 p.m. Wednesday, July 18 9:00 a.m. – 2:00 p.m.
Move-Out
Wednesday, July 18 2:00 p.m. – 5:00 p.m